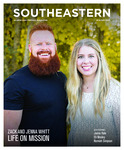 Description
NAMIAH SIMPSON: NURSING, MISSIONS AND SERVING OTHERS A nursing graduate, 10-time NAIA Track and Field All-American and two-time Academic All-American, Namiah Simpson discovered her passion on a medical mission trip to Uganda. There, she found a love for serving others and showing Christ through medicine, and now sees her future nursing career as her mission field.
FROM NASHVILLE TO A CATTLE RANCH – A DAY IN THE LIFE OF ELI MOSLEY Whether he's touring across the nation with his band or managing a cattle ranch in Bartow, Fla., Eli Mosley is doing what he loves. As a country music artist, he frequently travels to Nashville, Tenn., where he records and produces his music and has traveled across the country and performed with several country music stars including Tracy Byrd, Joe Nichols and many others.
ISAAC EISENHAUER: FINANCE GRADUATE, BUSINESS OWNER AND EDUCATOR Ever since high school, Isaac Eisenhauer knew he wanted to go into finance. He is now the owner and a portfolio manager at IvyLine Capital, an investment firm and macro-driven equity fund, and has used his experience in the business world to teach finance students and prepare them for their careers.
JAMIE HALE: CREATING COMMUNITY AND MINISTERING THROUGH DERMATOLOGY After doing a research project in high school, Jamie Hale discovered her love for dermatology. She now co-owns Azeal Dermatology Institute in Boulder, Colo., where she has served and ministered to her local community for the past seven years.
SOUTHEASTERN ON THE COVER Zack and his wife, Jenna (Pruitt) Whitt, are expressing the love of Jesus locally and internationally through unconventional avenues such as their bakery, coffee shop and CrossFit.
SHOWING JESUS THROUGH COFFEE, PASTRIES, WEIGHTLIFTING AND MISSIONS Zack and his wife, Jenna (Pruitt) Whitt, are making a difference in their community and around the world. As pastors in Lake Norman, N.C., the couple live out their faith through their coffee shop, bakery, and through their involvement with CrossFit and several AG missions' organizations.
FROM SEU TO WGEM NEWS In Quincy, Ill., five Southeastern graduates have reunited at the tri-state news station, WGEM. Together, they have found community and enjoyed learning and growing alongside one another in their new positions at the NBC-affiliated television station.
MIKE COOPER: LOVING NEIGHBORS WITH THE DREAM CENTER For over 14 years, Mike Cooper has been dedicated to establishing the Dream Center of Lakeland's connection to the surrounding community as its executive director. Through programs and resources including mentoring, neighborhood cleanups, and food and clothing distribution, Mike and the Dream Center aim to fulfill the needs of local community members.
Publication Date
Winter 2023
Publisher
Southeastern University, Office of Alumni Relations
Keywords
Namiah Simpson, Eli Mosely, Isaac Eisenhauer, Jamie Hale, Zach Whitt, Mike Cooper
Disciplines
Community College Leadership | Education | Higher Education
Recommended Citation
University, Southeastern, "Southeastern Alumni Magazine - Winter 2023" (2023). Southeastern Alumni Magazine. 18.
https://firescholars.seu.edu/seu_alumni/18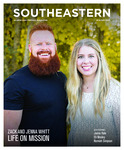 COinS