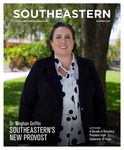 Description
A DECADE OF DISCOVERY: PRESIDENT INGLE CELEBRATES 10 YEARS President Kent Ingle celebrates a decade at Southeastern, as well as the tremendous growth the university has accomplished within enrollment, partnerships, degree programs and much more.
INTRODUCING DR. MEGHAN GRIFFIN — SOUTHEASTERN'S NEW PROVOST Beginning in May of 2021, Dr. Meghan Griffin stepped in as Southeastern's new provost. With an extensive background in higher education, Dr. Griffin is ready to guide the university into an exciting season of growth. DAVID DOCUSEN:
FINDING THE BEAUTY OF GOD ACROSS DIVIDING LINES After being awakened to the disparities in his own city and around the world, Dr. David Docusen strives to spread awareness and advocate for racial and economic justice through his book, "Neighborliness: Finding the Beauty of God Across Dividing Lines," and his organization, the Neighborliness Center.
RELATIONSHIP BUILDING KEY TO STEINHORN'S SUCCESS With a diverse history of working with both major and minor league baseball teams, Russ Steinhorn attributes his advancement and success to the relationships he has built along the way.
BUILDING THE FUTURE AT FACEBOOK Faith "Dani" Nawara has been dedicated to constructing an extensive and unique background in both business management and law following her graduation from Southeastern. Now, she works for Facebook, guiding employees in their adjustment amidst the pandemic and preparing the company for future crises.
BASKETBALL WITH A VERTICAL VISION Larry Taylor is reaching the hearts of youth across the globe with his passion for the game of basketball and his outreach program, Vertical Vision.
A HEART FOR SERVING As a program director for the Boys and Girls Club, Linwood Ross dedicates his time and efforts to mentoring children in the local community daily.
TEAM HARRIS: A FAMILY OF EDUCATORS After embarking on their professional journey as teachers at the same school, Gayle Harris and her daughters, Jacquelyn and Tiffany, made the decision to continue their educational pursuit together at Southeastern.
Publication Date
Summer 2021
Publisher
Souitheastern University, Office of Alumni Relations
Keywords
Kent Ingle, Meghan Griffin, David Docusen, Russ Steinhorn, Faith "Dani" Nawara, Larry Taylor, Linwood Ross, Gayle Harris
Disciplines
Community College Leadership | Higher Education
Recommended Citation
University, Southeastern, "Southeastern Alumni Magazine- Summer 2021" (2021). Southeastern Alumni Magazine. 16.
https://firescholars.seu.edu/seu_alumni/16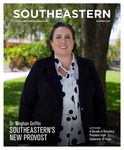 COinS