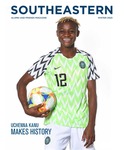 Description
TAKING RESEARCH TO THE SKIES Engineer and pilot Aaron Judy '18 (Ed.D.) is working for the federal government as an engineer to discover new and innovative ways to train pilots.
COMPETING ON THE WORLD STAGE In 2019, Uchenna Kanu '19 made her debut at the FIFA Women's World Cup and went on to set a national record while playing for the Southeastern women's soccer team. Now, she looks to continue to play soccer on the professional level.
COFFEE WITH A MISSION With a heart for missions, Karen (Dickey) Beiler '07 and her husband, Justin, use their business, Eurasia Coffee Company, to support nonprofits and missionaries around the world.
ENTREPRENEURS AT HEART Brittany (Clements) Ainsworth '09 owns and operates a Chick-fil-A in one of the busiest malls in America, and Chad Ainsworth '10 found a unique way to share his creative passion for videography with the biker community.
TAKING AIM TOGETHER Passionate about archery, Elton "Pepper" '91 and Donna (Douglass) '93 Brooke spend their weekends competing around the state of Florida. They reflect on how the sport has been a way for them to spend time together and minister to others.
LACY O'CONNOR: LIVING THE SWEET LIFE From early mornings in the kitchen to traveling around the country performing music, Lacy (McDougall) O'Connor '12 shares what it's like to be a pastry chef and aspiring musician.
TIFFANY HAMMER: WITH ELEVATION WORSHIP Tiffany Hammer '17 is the full-time worship leader for Elevation Church's Uptown campus in Charlotte, N.C., and a singer and contributing songwriter for Elevation Worship.
DEDICATING A LIFETIME TO MISSIONS In 1966, David '89 and Maryann Vespa set sail for Ghana, West Africa, to serve as Assemblies of God missionaries. Thirty years later, their daughter, Brenda and her husband, Pat '87, would follow in their footsteps to serve as missionaries to Botswana, eventually transitioning to serve in Greece and Italy.
Publication Date
Spring 2020
Publisher
Southeastern University, Office of Alumni Relations
Keywords
Uchenna Kanu, David Vespa, Maryann Vespa, Elton Brooke, Donna Brooke, Tiffany Hammer, Brittany Ainsworth, Karen Beiler, Aaron Judy
Disciplines
Community College Leadership | Higher Education
Recommended Citation
Southeastern University - Lakeland, "Southeastern Alumni Magazine- Winter 2020" (2020). Southeastern Alumni Magazine. 15.
https://firescholars.seu.edu/seu_alumni/15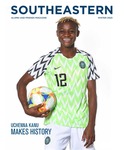 COinS