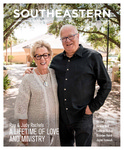 Description
This issue features alumni from a variety of different colleges.
REMEMBERING DR. JAMES HENNESY As the longest-serving president of Southeastern, Dr. James Hennesy's tenure included leading the university to gain regional accreditation, several building projects and spiritual revivals on campus.
RAY & JUDY RACHELS: A LIFETIME OF LOVE AND MINISTRY Ray and Judy (Homer) Rachels fondly remember meeting as students at Southeastern and their preparation for ministry.
BRANDON HURST: TREKKING THROUGH LIFE With an adventurer's spirit, Brandon Hurst '08 has hiked on both U.S. coasts, mountain climbed around the world and has run ultra marathons.
JAYMI YAMOAH: INSPIRING HOPE THROUGH THE CREATIVE ARTS Through a creative arts program, Out of Zion, Jaymi (Perez) Yamoah '07 provides support and brings hope to families who have children with medical and special needs.
MELONY BELL: COMMITTED TO SERVICE With political aspirations, Melony Bell '08 felt the importance of receiving an education while pursuing her career. Formerly a commissioner and mayor, Melony now serves her community as a member of the Florida House of Representatives.
MAXINE ANDREWS: COMMITTED TO GOD'S CALLING Fifty-seven years after first arriving in Taiwan, Maxine (Morrison) Andrews' '56 call to missions still hasn't changed.
KATHRYN BISHOP: NURSING ON THE ROAD Traveling from the East Coast to the West Coast, Kathryn (Davis) Bishop '11 shares the perks of being a travel nurse in a pediatric emergency room department.
THE MOSER FAMILY: HOOKED ON SOUTHEASTERN Since graduating in the '70s, Lennie '71 and Cheryl (Finch) '72 Moser have continued to be involved and invest in the next generation of students at Southeastern.
Publication Date
Summer 2019
Publisher
Southeastern University, Office of Alumni Relations
Keywords
Maxine Andrews, Melony Bell, Kathryn Bishop, Brandon Hurst, Jaymi Yamoah
Disciplines
Higher Education
Recommended Citation
Southeastern University - Lakeland, "Southeastern Alumni Magazine- Summer 2019" (2019). Southeastern Alumni Magazine. 14.
https://firescholars.seu.edu/seu_alumni/14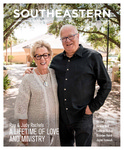 Included in
COinS