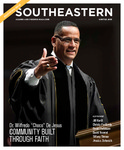 Description
This issue features alumni from the College of Education.
AMERICAN CENTER FOR POLITICAL LEADERSHIP Former U.S. Congressman Dennis Ross joins SEU as a distinguished professor of political science to launch the American Center for Political Leadership, a bipartisan center.
SEU LAUNCHES AVIATION PROGRAM In partnership with the International Aero Academy, Ltd., SEU announced the launch of an innovative, cost-effective new aviation program that will meet the current and anticipated need for professional pilots.
CHRISTY (CLEMENTS) PAVILANDO: CLIENT RELATIONS FOR THE JACKSONVILLE JAGUARS As a member experience specialist for the Jacksonville Jaguars NFL football team, Christy '16 is a key player in helping keep the team's fan base engaged and coming back season after season.
DR. WILFREDO "CHOCO" DE JESUS: COMMUNITY BUILT THROUGH FAITH From growing up in inner-city Chicago to becoming the pastor of the largest Hispanic Assemblies of God Church in the United States, Choco '18 (Ed.D.) shares how God ordained his life.
JILL (MILLER) HARDT: RIDING WITH EXCELLENCE Since graduating in 1992, Jill has seen her commencement address come back full circle. As a trainer, competitor and owner of Tristan Oaks Dressage, she strives for excellence and living in a way that reflects Christ.
DANIEL "DAN" ROBINSON: A LIFE OF LEADERSHIP For the past 12 years, Dan '91 has served as an educational administrator in Michigan. As the principal of Novi Christian Academy, he realizes the importance of investing in the next generation.
TIFFANY (SAMUELS) THENOR & JESSICA (VALDES) ZIVKOVICH: WONDERHERE— A LEARN AND PLAY STUDIO Two SEU grads, Tiffany '09 and Jessica '11, '18 (M.Ed.), are reintroducing fun into the learning process with their learn and play studio, WonderHere.
DAVID "DAVE" TERNENT: EDUCATION IN 3D As a seventh-grade science teacher, Dave '92 has implemented STEM programs into his classrooms, such as 3D printing and virtual reality, to prepare students for the workplace.
THE JONES FAMILY LEGACY: A HEART FOR AFRICA Odell '63 and Martha (Foster) '61 Jones spent decades teaching and ministering in West Africa. Their daughter, Jennifer (Jones) Hays '89, followed in their footsteps teaching in Ozark, Mo.
Publication Date
Winter 2019
Publisher
Southeastern University, Office of Alumni Relations
Keywords
Congressman Dennis Ross, Dr. Wilifredo "Choco" De Jesus, Novi Christian Academy, American Center for Political Leadership
Disciplines
Higher Education
Recommended Citation
Southeastern University - Lakeland, "Southeastern Alumni Magazine- Winter 2019" (2019). Southeastern Alumni Magazine. 13.
https://firescholars.seu.edu/seu_alumni/13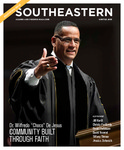 Included in
COinS